Chest of Drawers October 6, 2012  I've finished the dresser at long last, it only took 3 years 🙂
The carcass is made of red oak plywood sides and back, then solid wood frame and everything else. It was supposed to be a baby change table but I thought I would make it into a chest of drawers with a slide out tray to sit powders, creams etc.
The drawer boxes are made from cherry with dowel joints with false ebony dowel plugs for looks, then the oak drawer fronts were attached to the boxes. No drawer slide hardware, it's hardwood runners.
I finished it by spraying aniline dye mixed with polyurethane until it darkened enough. Then a few coats of clear finish.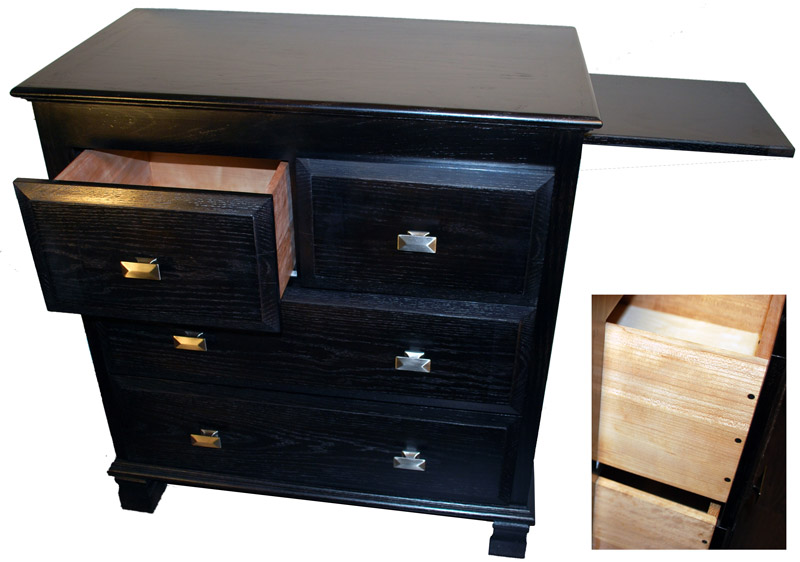 Entrance Bench November 28, 2011 I completed the front entrance bench with fold out shoe storage. This one was forever ongoing since it was new territory and I was juggling a few projects at the same time. It took a while to find hinges that would let the front panel fold out and then down in order to clear the body of the bench – it really pays to design first, built second but I'll practice that theory next time.
It's made of red oak to match our staircase. Seat cushion to follow.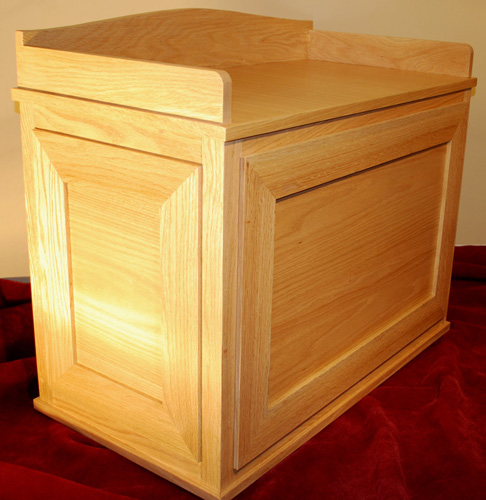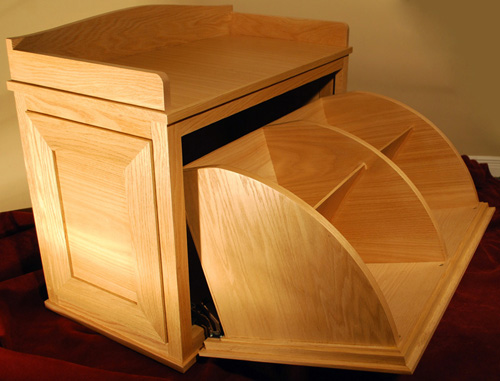 Wahoo July 31, 2011 I was asked to make a mable game called wahoo – a game I've yet to play. I started by making a hardboard template with 105 holes drilled using the drill press according to the board design. Then I glued up a laminated panel of maple 24″x24″ and handplaned it flat, then I used a card scraper to finish it off.
Next I attached the template to the blank game board and began routing the rounded holes using a core box bit.
Once that was done I hand painted the correct holes and finally finished the surface by spraying a few coats of polyurethane while sanding in between.
I enjoyed doing this and kept the template to make more later if I wanted. I think I'll make a smaller one for our house.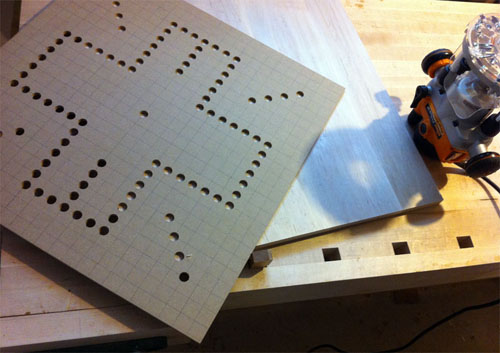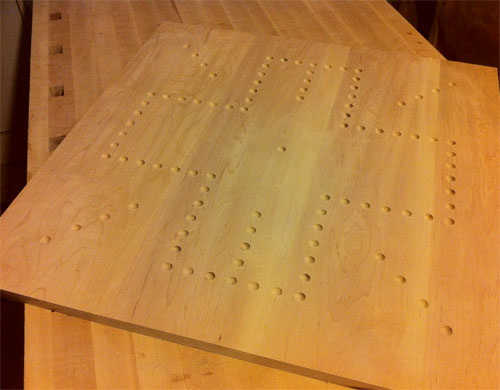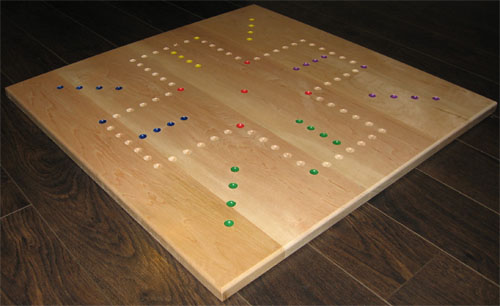 Wobbleboard December 14, 2010 I was asked to make a wobbleboard for someone at work after he hurt his ankle. It's basically a pogo-ball only you strengthen your ankle by rolling it around at progressing angles.
Here's my version complete with a removable insert. The main ball part makes it at a 12 degree angle and with the insert it's at 17 degrees.
It's made of 3/4″ red oak with a bent inlay of maple wrapping around the edge. In order to bend the maple around the circle I had to steam bend it, then glue it. I made a steam box using 2″ black HDPE water pipe hooked up to a large pot of boiling water at a 90 degree angle. The steam goes up through the hole in the pot lid through the 90 degree 6 foot long pipe with a cap on the end. I stick the wood strips in the pipe and cook for about 30 minutes. I have about 20 seconds to clamp it in position before it hardens.
I used a bandsaw circle cutting jig to cut out the circle of oak planks and a drum sander to smooth it out. I finished by spraying a few coats of polyurethane.
It was a simple project but I got to make a circle cutting jig that I'll use the the future as well as trying out steam bending. I also turned the ball on the lathe. Pretty cool.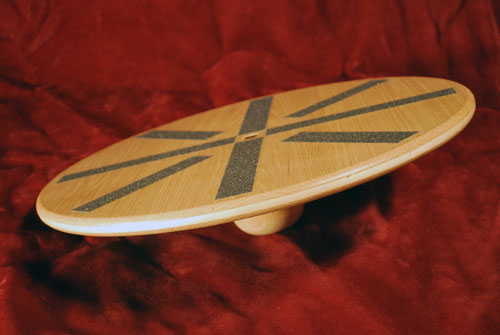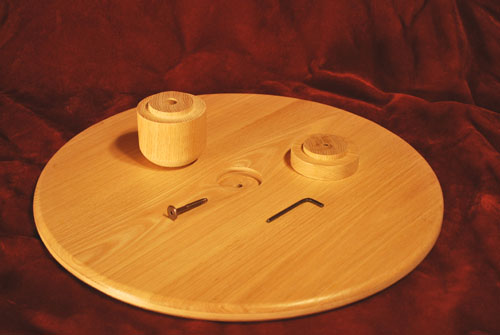 Wooden Dogs April 5, 2010 I needed some square wooden dog for my workbench dog holes. The Lie-Nielsen website wanted $50 for the pair. I knew a guy who bought them and I asked for the dimensions and made my own. Perfect replicas.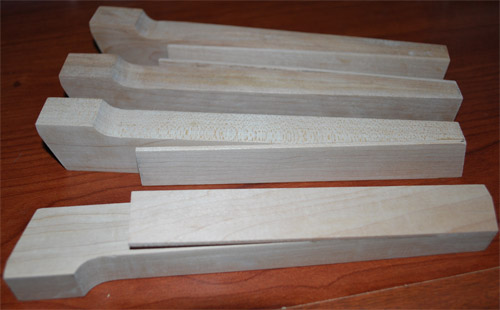 Cigar Humidor December 20, 2009 My first box ! A cigar humidor. It's my first time working with walnut and Spanish cedar lining. The dark edges are ebony (also a first).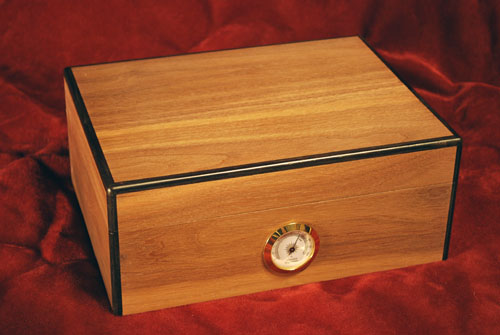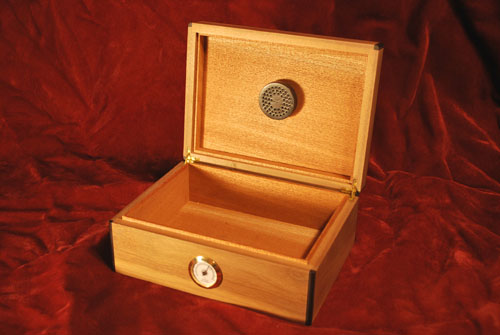 Shoe Storage Entrance Bench December 1, 2009
I've started an oak entrance bench/shoe storage thing that I've been asked to make for the house. The first picture shows the back and sides and is where I'm at now. The front is just a hole at the moment. The second picture is where I got the idea for the soon to be front fold out part. Not sure how I'm going to make that function. Mine is going to be a bit more modern looking, more straight lines than the 2nd Googled image.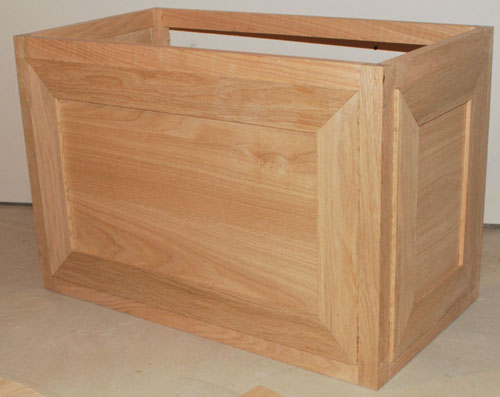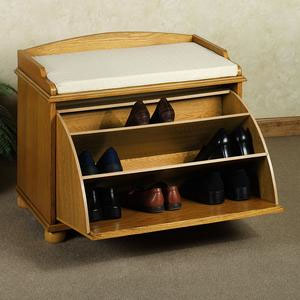 Workbench Top June 20, 2009 I've started my workbench top finally. It's 3 inch thick maple, 7 feet long. I've glued up two 12 inch pieces that would fit through my thickness planer, now I have to join them and keep going.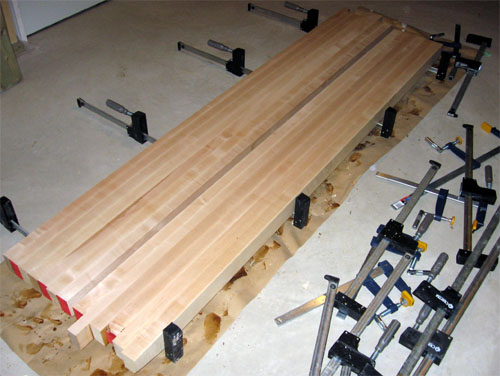 Dovetail puzzle box Oct 26, 2008 I was bored yesterday so I wanted to make something that used dovetail joints. Can you guess how to take this apart?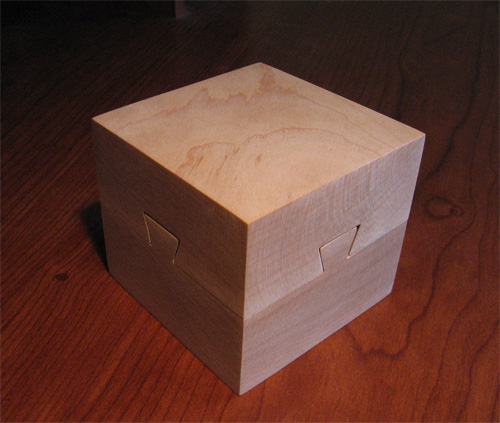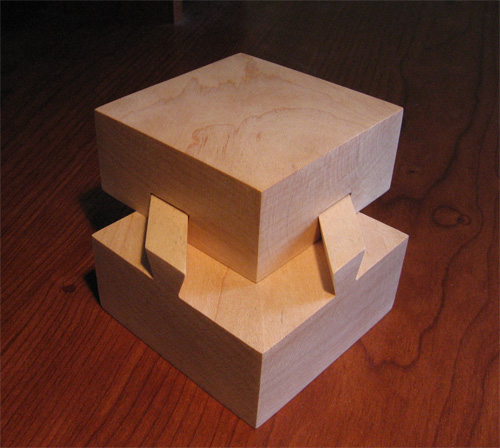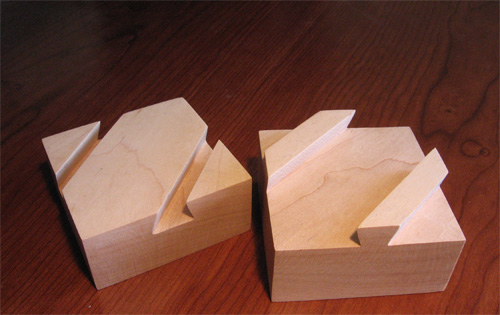 Raised panel toybox June 27, 2008 Here is the front and back so far. I've never done raised panels before so this is the first time I've used the panel bit set with my router. It turned out really good.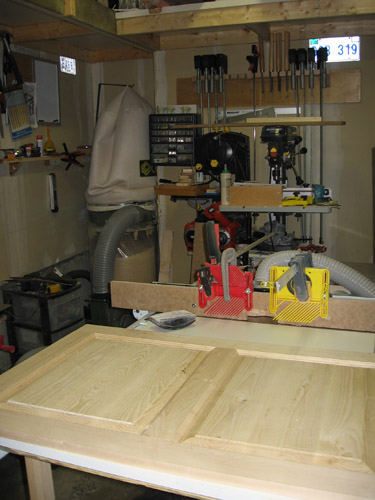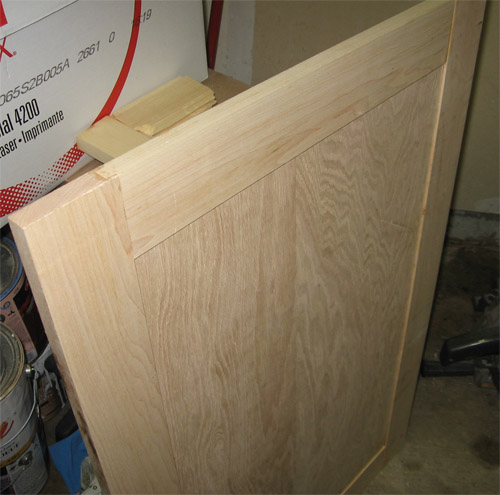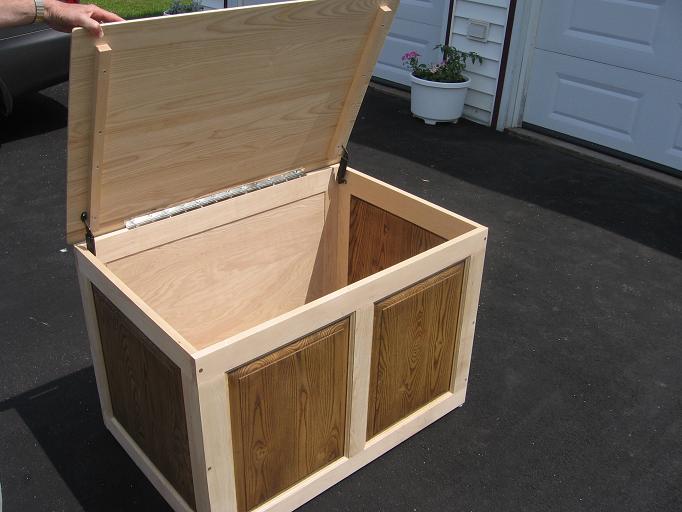 Shaker style Workbench March 20, 2008 This is just the frame, partially glued. The top front rail is a dovetail joint – my first one.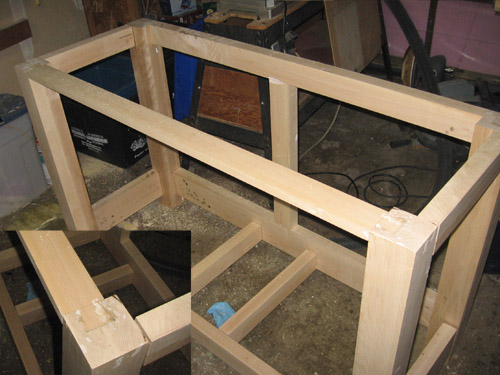 Tablesaw Zero-clearance Saw Blade Inserts April 1, 2008 Maple blade inserts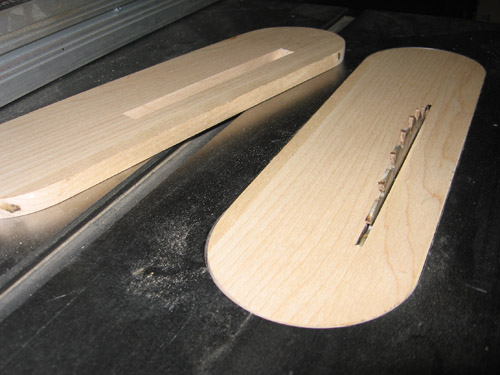 End-Grain Cutting Board Feb 11, 2008 Maple/Mahogany/Walnut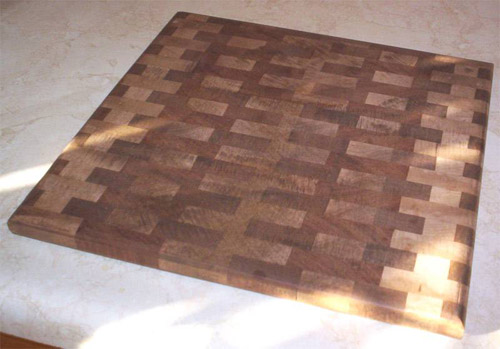 End Tables Oct 14, 2007 (First Project Ever)