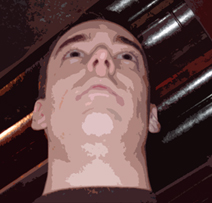 I believe a person is the product of all the choices they have made in their lifetime. I'm proud of the choices that I've made and appreciate the support of those around me.
Almost everything that I have, I've worked for. I've kept busy since I was 14 working towards what I wanted. This continues through until the present. I've had a clear set path in mind of where I wanted to be in the near future and I'm happy to say I'm prevailing.
I am a self-proclaimed expert at driving with my knee. I have always wanted to loot.
Hobbies
Music, guitar (playing, recording)
Video (recording, editing)
Computers (programming, multimedia, web development)
Ultimate Frisbee
Indoor rock climbing
Snowboarding
Tennis
Koala hunting
Misc:
Likes:
Order
Consistency
Convenience
Fireflies
Maple Trees
Orange scent
Darkness
Silence
"The spirit of youth and achievement"
My motorcycle
Power tools
Playing with wires (King of cords)
Pencils
Dislikes:
Girls with hairy pits
Loose ends
Spruce Trees
Pine Trees
Negativity
Pens
Mosquitoes